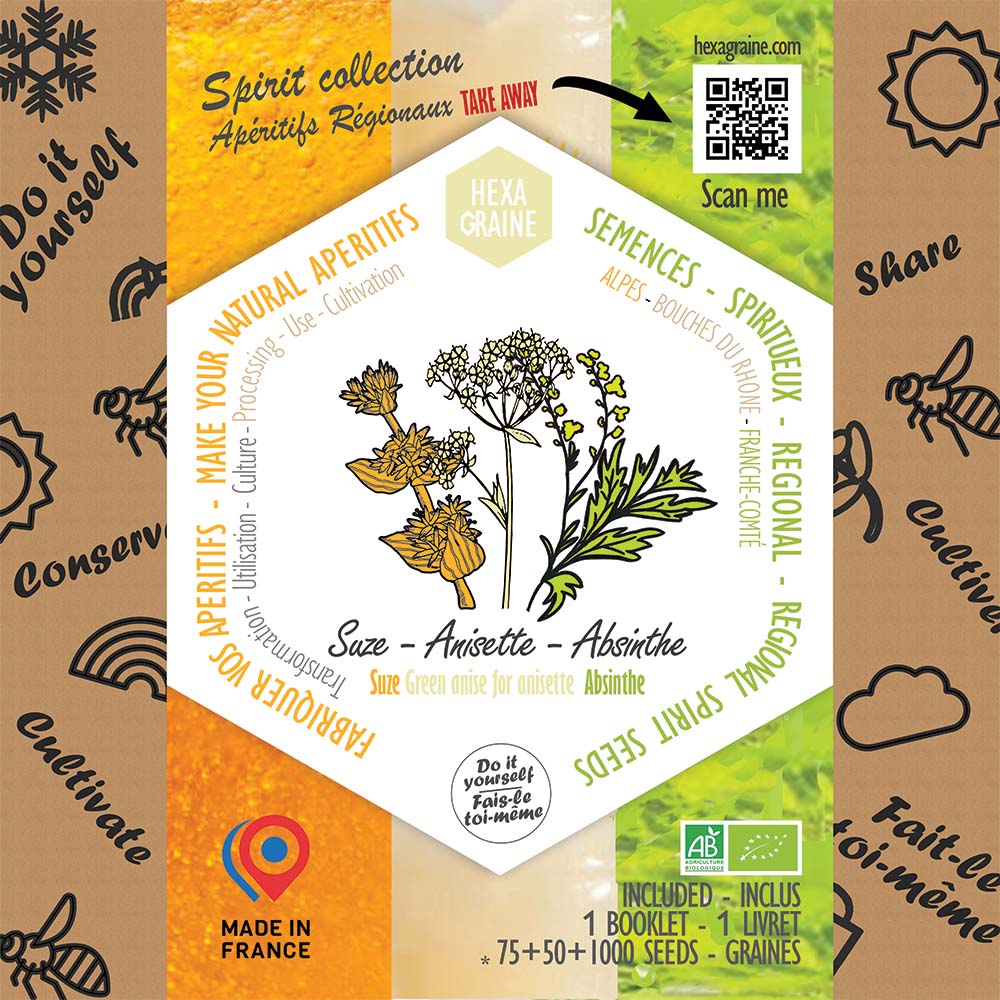 Useful and ecological
The "Spirit Regional Aperitifs" seed box is a kit of plant seeds used to produce regional spirits. A new generation creative hobby for adults designed to learn and pass on craftsmanship. A real box of knowledge, you will learn how to sow, maintain, harvest and transform your medicinal and aromatic plants for the production of spirits with our knowledge guide (guide included).
The selected plants allow the production of many emblematic French aperitifs. The famous Pastis, Absinthe, Suze, Picon etc. to be consumed in moderation with friends and families.
knowledge guide
Regional appetizers
Sowing
Cultivation and maintenance
Processing of aromatic and medicinal plants
Seed conservation
Create a Useful Garden
Create your utilitarian garden with the "regional appetizers" spirit seed box. Our kit of seeds of medicinal and aromatic plants allows the creation of a creative and playful garden designed to learn and transmit artisanal knowledge. A selection of non-greedy, easy-to-grow plants that can be planted in pots. Melliferous plants good for pollinating insects chosen to preserve biodiversity.
Picon suze gentiane
GENTIANA SEEDS
"Gentiana lutea ORGANIC"
Anisette pastis
Green anise seeds
"Pimpinella anisum ORGANIC"
Wormwood
Wormwood seeds
"Artemisia absinthium ORGANIC"
Sowing your creative activities
Produce your regional aperitifs with the plant seed kit for the preparation of pastis, anisette, Suze, Picon, absinthe
Buy box of medicinal and aromatic seeds for regional aperitifs